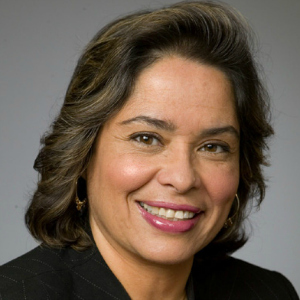 President and CEO, Latino Health Access
Dr. America Bracho is the Executive Director of Latino Health Access, a center for health promotion and disease prevention located in Santa Ana, California. Latino Health Access facilitates mechanisms of empowerment for the community and trains community health workers as leaders of wellness and change. Dr. Bracho worked as a physician in her native Venezuela for several years, after which she came to the U.S. to obtain a Master's Degree in Public Health at the University of Michigan. She is also a certified diabetes educator.
Dr. Bracho is a current member of the Board of Trustees for Casey Family Programs and a former trustee of the Marguerite Casey Foundation. She served on the Institute of Medicine Round Table on Health Disparities and on the Advisory Committee for the Robert Wood Johnson Foundation Local Initiative Program. Dr. Bracho has been a consultant and presenter for national and international organizations and institutions of higher education. She has been a valuable faculty member for several international courses in Latin America, Australia and Europe. She has received several awards for her contributions including: The California Leadership Award, James Irvine Foundation 2008; Doctor of Humane Letters, honorary degree from the Arizona School of Dentistry and Oral Health, May 2007; Southern California Public Health Association's Milton Roemer Award, April 2005.