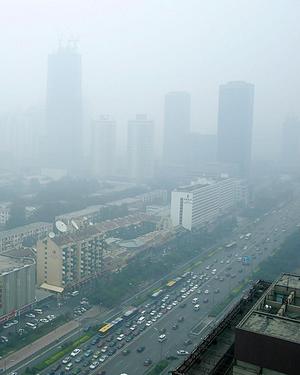 On December 1, students in the graduate class on "Regional Leadership in Air Quality" presented their research to the South Coast Air Quality Management District. The AQMD staff included executive officer Barry Wallerstein (a member of the PPD Department advisory board) and the AQMD's chief policy advisor, Peter Greenwald. The twelve students in the class had an opportunity to brief the AQMD leadership on issues at the intersection of air quality, energy generation and transmission, land use, and transportation. Recent California laws, including groundbreaking efforts in the state to regulate greenhouse gas emissions, have raised the profile of these issues.
The student presentation is available here
The AQMD officials were impressed with the student work, and the research from the class will lay the groundwork for continued policy discussion in the region. In previous class sessions, students have had
an opportunity to discuss their ideas with policy leaders, including the director of planning with the San Bernardino Association of Governments, a former deputy sectrary of California's Business, Transportation, and Housing agency, a former Los Angeles City Council member, and electedofficials and leaders from the private sector. The course was taught by Prof. Marlon Boarnet, with assistance from Lindell Marsh, a PPD lecture, environmental attorney, and member of PPD's advisory board. The students in the class were Matt Agustin, Daniel Chuong, Jessica Debats, Harya (Koko) Dillon, Ata Khan, Siyuan (Tom) Li, Xue (Elaine) Ling, Chris Lunghino, Roland Ok, Kawin Sawangarom, Shannon Vitale, and David Weinreich.