Background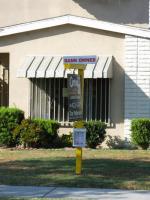 The Housing Fellows program provides meritorious students with an opportunity to gain knowledge in housing development, planning, and policy, and to improve their understanding of the legislative process responsible for creating the housing planning and policy structure in California. It is a unique, cooperative program involving the University of California, Irvine, the UC Center, Sacramento, and the California Department of Housing and Community Development (CA-HCD). Some benefits include: 1) a paid summer internship in Sacramento; 2) a $2,500 cash award (to help offset housing costs in, and transportation costs to Sacramento); and 3) a cluster of courses that complement the practical experience at CA-HCD and promote an expertise in housing planning and policy.
What is expected of a Housing Fellow?
A selected applicant must commit to completing a set of courses (16 units) as part of their program at UCI, and a paid summer internship at the CA-HCD in Summer 2009.
Courses:
Mgmnt 246A: Introduction to the Real Estate Process
U246: Housing Policy (UCI)
U275: Planning for Housing: California's Housing Element (UCI)
UCSAC: California policy/legislative process (UC Sac Center) (U299 credit, See below)
U299: Housing research paper (UCI Ind. Study with PPD faculty, Fall 2009)
At least two courses from 1-3 shown above must be completed prior to Summer 2009. Preference will be given to students who have completed U275 Planning for Housing (U275) in AY 2008-2009.
Internship: 35 hours per week for 12 weeks at CA-HCD (paid per agency's customary scale, given applicant's experience). CA-HCD will interview selected Housing Fellows in Winter Quarter.
Who's eligible to apply?
First-year students (in good standing) in the Master's of Urban and Regional Planning (MURP) program.
What are the criteria for selection?
Housing Fellows will be selected on merit. The review process will evaluate an applicant's: statement (the reasons for applying for the fellowship and the relationship of the program to future goals); grades from the first quarter of the MURP program; previous experience, and fit with CA-HCD's expectations. CA-HCD is particularly interested in bright, mature students able to work relatively independently in an environment of state politics.
When and where do I apply?
Applications will be available beginning November 2008 and will be accepted until January 15, 2009. Please see Janet Gallagher for application information. Decisions will be made by January 29, 2009.