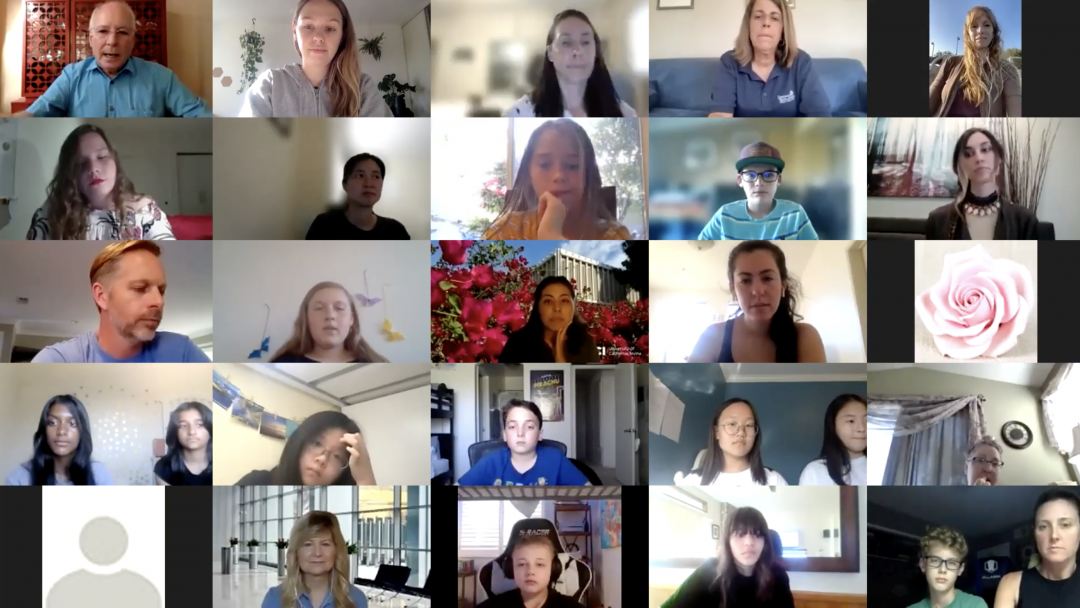 ---
The winners of Water UCI's 2021 Middle School Challenge were feted recently with awards, goody bags and a pizza party during a Zoom reception.
The winners, from Lakeside Middle School in Irvine: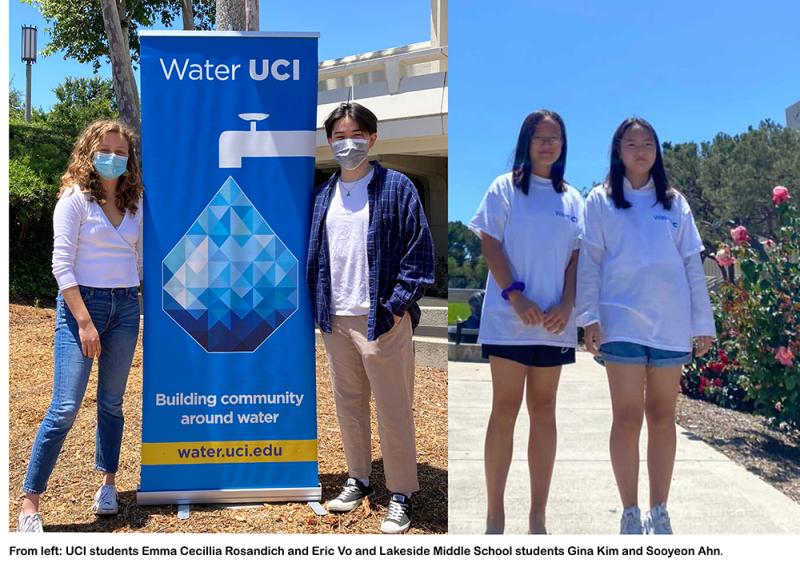 First Place — Ashley Lang, for "Subsidizing hydroponics for Farming"
Second Place — Gina Kim and Sooyeon Ahn, for "Rosee Monde Project: Filter and "Aqua App"
Third Place — Diya Khana and Saniya Ali, for "Use Less, Earn More: Residential Water Saving Program"
And, from Community Roots Middle School in Laguna Niguel:
First Place — Finnley Ryan, Nicholas Piana, Antonello Munz and Aidan Woodward, for "Converting SewerWater to Filtered Water"
Second Place — Luke Oliver, Sofia Rasuli, Brayden McCray and Hannah Yonemitsu for "Gallo-Meter"
Third Place — Lyla McCraw, Anna Waltersdorfer, Analise Tejeda and Kelsey Furniss, for "Diamond Water"
Honorable Mention — Sienna Hoch, Aiden Dillon, Cruz Perez and Elizabeth Gaggiano, for "Water Conservation & Purification/Flower-pot filtration
"The goal of the middle school challenge is to afford students the opportunity to learn by doing, to take what they learn about our most precious resource — water — from experts in our community … and to come up with innovations that can be applied anywhere," Water UCI Director David Feldman told the students, their parents and their teachers during the Zoom meeting.
Ashley Lang, Lakeside's first-place winner, said she decided to participate in the challenge to research new inventive solutions to water conservation.
"I discovered that 80 percent of California's freshwater is used for agriculture," she said. "If we could lower this amount, we could conserve a lot of water. One of the most effective ways to save water in agriculture is by using hydroponics. Hydroponics uses up to 90 percent less water than conventional methods."
Hydroponics is costly and farmers can't afford it, Lang said, so her solution is to offer hydroponics subsidies to farmers who invest in it.
The first-place Community Roots team tackled how to convert sewer water into filtered water for plants. The students created a water filter using layers of gravel, sand and activated charcoal. They concluded that their design is a cost-effective solution to water contamination that could benefit the community.
Water UCI's Middle School Challenge focuses on a current water issue. Students in public schools learn the science behind the problem and then exercise the scientific method in determining a unique solution to the problem with their classmates. The students develop teamwork and communication skills while figuring out innovative ways to problem solve — skills that are beneficial beyond the classroom. In addition, UCI students complete a lecture at the secondary schools during which time they teach the students about the significance of the issue as well as the underlying scientific principles. They develop the lecture with the help of university scholars and have the opportunity to acquire public speaking skills.
"For UCI students, the mentoring sessions are an incredibly rewarding opportunity," said MacKenzie A. Christensen, project coordinator for the Water UCI Middle School Challenge and a sociology graduate student. "While middle schoolers benefit directly from the guidance and support provided by the mentors, UCI students simultaneously gain valuable skills and experience with teaching and translating advanced water science concepts to future water leaders!"
Contact:
Mimi Ko Cruz
Director of Communications
949-824-1278
mkcruz@uci.edu