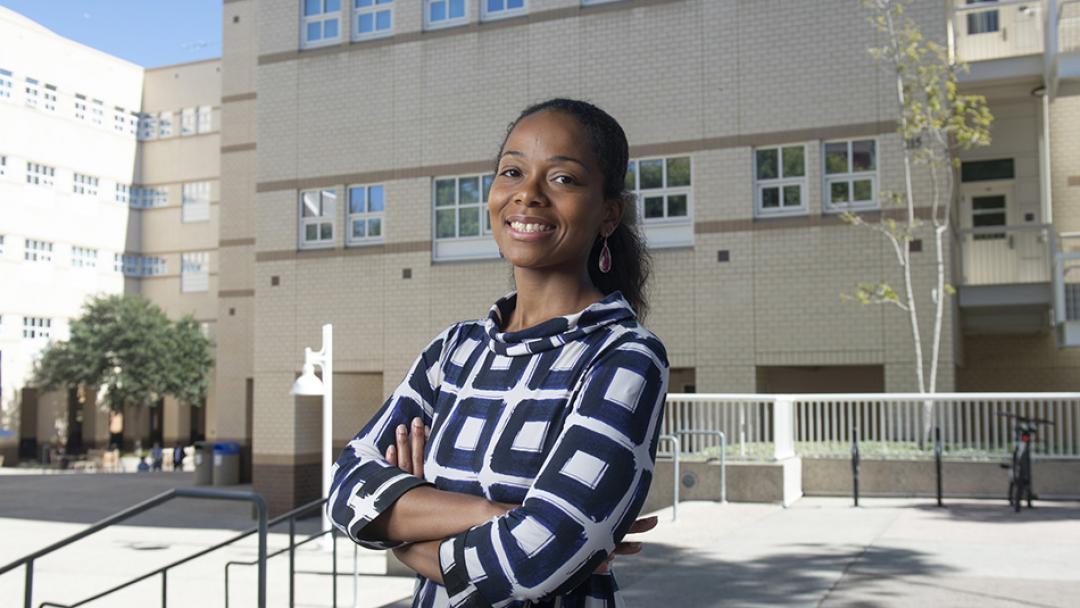 Zayda Sorrell-Medina received an AAUW fellowship for $20,000 for the academic year 2021-22. She said she "was elated and couldn't believe my eyes." Photo by Steve Zylius
---
Support allows Zayda Sorrell-Medina to commit full focus to the pursuit of her Ph.D.
The American Association of University Women awarded $20,000 to Zayda Sorrell-Medina for the 2021-22 academic year. She was awarded an American Fellowship, which allows the Ph.D. candidate to concentrate her full energy and effort toward the progress of her degree.
Sorrell-Medina is pursuing her Ph.D. in urban planning and public policy. Her research seeks to measure the impact of the U.S. immigrant-serving nonprofit sector. Her "deep, abiding commitment to diversity, equity and inclusion" propelled her to choose a dissertation topic focusing on those elements. The fellowship will support the final phase of her dissertation studies in which she is implementing a national survey of immigrant-serving nonprofit organizations to gauge how they affect creating inclusionary cities. She plans to complete her dissertation by Aug 1, 2022.
Since 1888, the AAUW has fervently supported graduate women's education, awarding more than $115 million in fellowships, grants and awards to 13,000 women from 150 countries. That total includes an unprecedented $5 million awarded to 260 scholars in 2021-2022.
Contact:
Mimi Ko Cruz
Director of Communications
949-824-1278