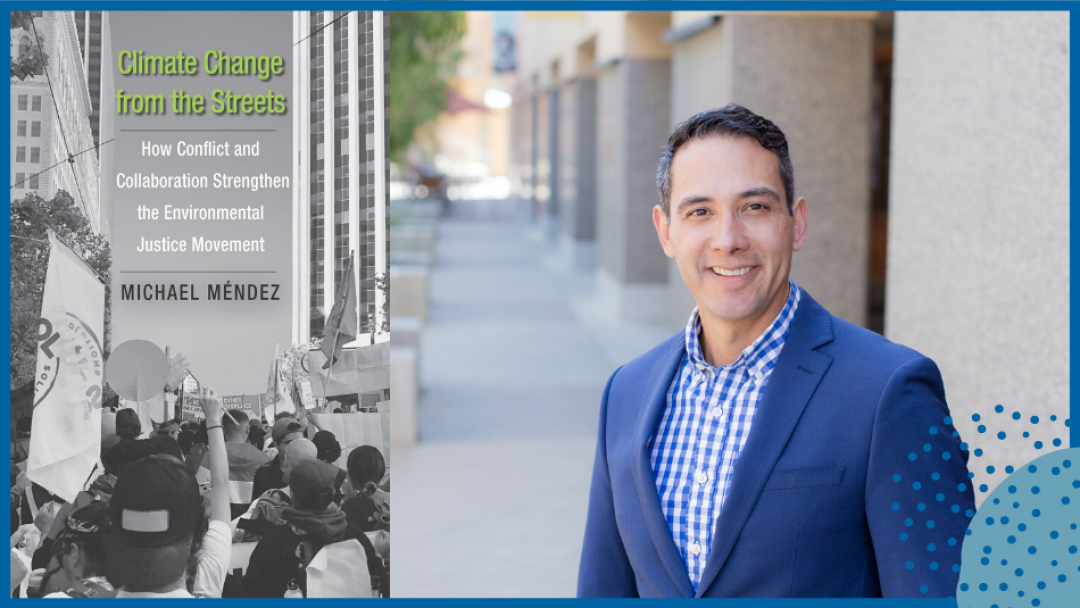 ---
Assistant professor of urban planning and public policy writes about conflict and collaboration for environmental justice
By Matt Coker
Michael Méndez hit the third mile of his daily four-mile run along the Sacramento River in January 2014, when his head began to ache and he started coughing heavily. He walked the final mile home. Appointed by Governor Jerry Brown as an Environmental Protection/Ecosystems board member to the California State Mining and Geology Board, Méndez had ignored a "red alert" issued by air quality officials for that dry, winter day.
Red alerts advise all people — not just the young, old and those with respiratory problems — to stay indoors due to airborne fine particulate matter having accumulated to unhealthy levels. Previously, a phenomenon only in California's major cities during the summer months, a record drought linked to climate change turned red alerts into year-round events throughout the state.
"The run I took on that red alert day in Sacramento highlighted for me the ways in which climate change — so often considered a global problem — can have uneven local impacts," writes Méndez, assistant professor of urban planning and public policy, in the preface of his new book "Climate Change from the Streets: How Conflict and Collaboration Strengthen the Environmental Justice Movement" (Yale University Press). "This is a crucial insight that environmental justice advocates bring to the public conversation about climate change: Pollution most heavily affects the daily experiences and well-being of people living next to noxious sources."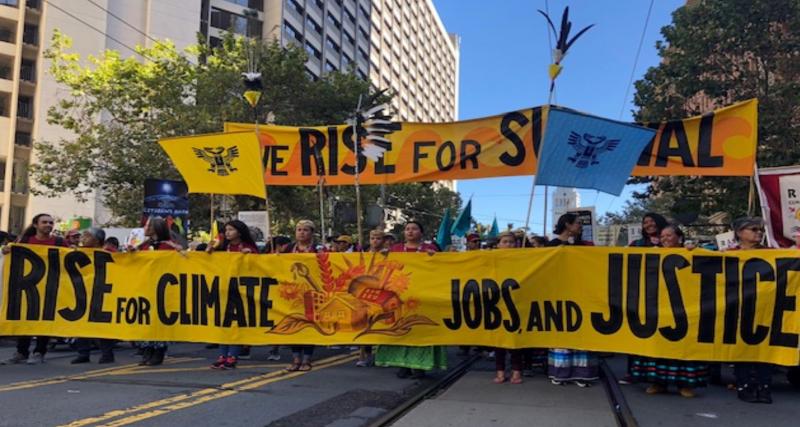 Méndez says people most associated with environmentalism in California are often "coastal white Democrats in Malibu or San Francisco, and not the low-income people of color living next to oil refineries, fighting for environmental justice. "Climate Change from the Streets" is revolutionary in its aim to give credit where it is long overdue.
"This book foregrounds people, place and power in the context of climate change and inequality, and my goal was to have that opportunity to really center people of color in the climate change movement," says Méndez, who grew up in northeastern San Fernando Valley but now resides in Long Beach. "Oftentimes, we see that low-income communities of color are erased from the environmental history of what has been achieved in the climate action movement of California and the entire United States."
Other than "maybe one or two journal articles that my colleagues at UC Davis wrote," Méndez knows of no other serious examination of the role played by what he's dubbed "climate change street fighters" — until January's publication of his book.
"There's been no comprehensive monograph of the history of the environmental justice movement in the context of climate change," he says. "While I am not an environmental historian, I really do look at this book as an environmental history book, making the invisible visible through these interconnected case studies and research."
Having very little source material to pull from on the subject is what Méndez found most challenging in creating the book.
"The role that, in particular, Latinos/Latinx legislators, policymakers and community activists have played — you don't hear about that," he says. "You'll always hear about that white coastal environmentalist who was so courageous in moving climate action forward."
It is not as if climate change street fighters only operate behind the scenes, Méndez adds.
"Some of them are very well known within policy circles, but in the news or in academic research, we don't see them portrayed as environmental leaders," he says.
He believes it is important to explore the omission of activists of color from the "traditional" environmental movement. (Think the Sierra Club, the Environmental Defense Fund and the Natural Resources Defense Council.)
"One of the aims [of the book] is to show how conflict needs to be acknowledged and not swept under the rug," Méndez says. "Some of the traditional environmentalists were concerned about this book. They didn't want me airing California's dirty laundry. They think any negative story focused on conflict is a step backward for the climate movement. But, as the adage always goes: 'Those who do not learn from history are doomed to repeat it.' "
"If we're really to serve as an exemplar for the rest of the country and the world, we need to understand what were the cleavages and to be intellectually honest that these conflicts existed in California," he continues. "Essentially two groups of pro-environmentalists were speaking from structural locations that are worlds apart. In one camp, you had traditional environmentalists, policymakers, economists and scientists. On the other hand were environmental justice groups and other social justice organizations representing low income communities of color. These camps were both working for the same goal of environmental protection, and reducing the harm that climate change is causing to our planet and our local communities. But, they couldn't agree on what paradigm or worldview that should be adopted and for whom."
Through the book and "Climate Change Street Fighters" — an essay by Méndez on the Yale University Press blog — he also tries to correct the environmental history concerning the Green New Deal, a congressional resolution that lays out a grand plan for tackling climate change. Introduced by Representative Alexandria Ocasio-Cortez (D-New York) and Senator Edward J. Markey (D-Massachusetts). While the UCI assistant professor has no problem with "green" and "deal" — "Creating a national dialogue of equity in climate change and inequality … is great and much needed" — Méndez does have an issue with "new."
"In 2006, California enacted its first major climate change framework that served as a model for the rest of the country," he notes. "Since then, environmental justice groups in California, New York, Chicago, Seattle, and in United Nations spaces as well, have been fighting to link climate change to inequality, public health and jobs. That's why I argue there is nothing new in the Green New Deal. It's a great concept but you need to honor the history and give recognition to these environmental justice organizations and communities that have been fighting for climate action and justice for nearly 20 years."
Méndez argues that "a movement with more actors included under the tent in support of climate change" — that is, traditional environmentalists and environmental justice activists banding together — can only strengthen their common cause. "When you're telling people off the bat that their perspectives and worldviews are invalid? I think that's when a lot of people get turned off around climate change policies, and they don't see how it is relational to their everyday lives in terms of poverty, being able to feed their family, and protecting their children with asthma. The biggest factor for success, first and foremost, is framing climate change as a public health crisis, one that does have local implications. You can't just be fixated on global targets and global emissions. Those global targets and global emissions have to connect back to the local context, the local community. And have real outcomes; people have to see the benefits of these programs."
"Climate Change from the Streets: How Conflict and Collaboration Strengthen the Environmental Justice Movement" may be a critical examination of climate politics, but Méndez remains sunny about the future.
"I am a hopeful person," he says. "Even though I do talk a lot about conflict, and that's the subtitle of my book, I also highlight a lot of the collaboration. I am hopeful that these activists will continue to engage collaboratively because they deeply care about the environment in their communities and the global health of our planet."