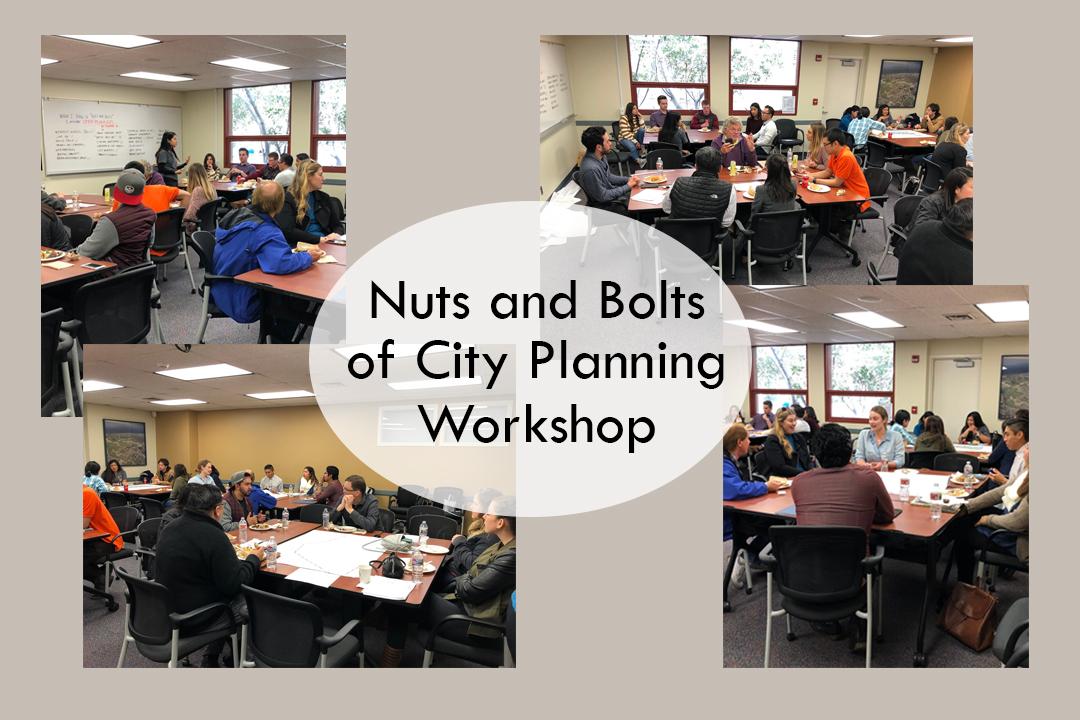 ---
Nuts and Bolts of City Planning Workshop
UCI's MURP student association, UPSA, and the Orange County American Planning Association (OC-APA) recently hosted a "Nuts and Bolts of City Planning" workshop on campus. Thanks to Sureena Basra and Molly Mendoza, UPSA's APA Student Representatives, for coordinating the event with OC-APA, and for providing the following summary of the event:
"On March 3, 2018, the UC Irvine Urban Planning Student Association (UPSA) partnered with the Orange County APA Board to put on the third annual Nuts and Bolts of City Planning workshop. The event, held for both students and working professionals, was created to guide new planners with an introductory understanding of site plans, zoning maps, zoning codes, plan checks and more. Starting the day with a basic introduction to the planning world and breakfast, the attendees eventually broke up into smaller groups to circle around the room visiting different stations. At each station, they were able to review zoning maps and identify zoning codes in different parts of the City of Irvine. Then, they rotated to participate in some stations which included: site plans and parking, landscape design, elevation site plans, and topographical maps. Finishing with lunch, the guest speakers were readily available for some Q&A by the attendees, a great networking opportunity for everyone. Attended by about 30 people, including students and professionals, the event turned out to be a great success. Once the workshop concluded, a UCI MURP student provided immediate feedback stating: "This workshop is extremely helpful for students pursuing a career in planning, especially for those who have limited experience in the actual field . . . There are many facets of planning to practice and this workshop helped me gain a better understanding of which ones I'm most interested in." A final thanks to UPSA's partner at OC-APA, Stephanie Roxas, and to the guest speakers: Steve Ratkay, Belinda Deines, Katherine Moran, Christina Michaelis, and Nick Chen."
Update: In its weekly e-newletter (4/5/18), the OC-APA published a column entitled, "Why I attended the Nuts and Bolts Workshop after 25 years as a planner." In the piece, Robert Franklin, an experienced planner, shares his experience of the event and the variety of valuable information and interactions he gained. Read the article on OC-APA's website.