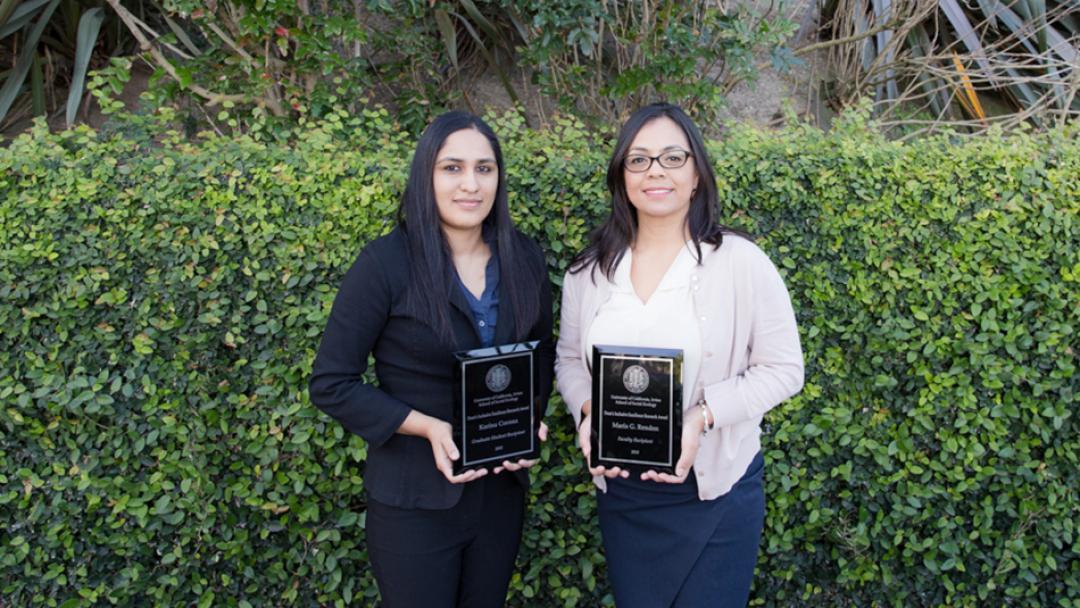 ---
Maria Rendón, assistant professor of urban planning and public policy, and Karina Corona, a psychological science grad student, have been named the recipients of this year's Dean's Award for Inclusionary Excellence.
The honor — bestowed by Nancy Guerra, dean of the School of Social Ecology — annually recognizes a faculty member and a graduate student whose research showcases diversity and inclusion, and comes with a $1,000 award.
Rendón's research examines neighborhood conditions and processes that shape cultural outlooks and life trajectories, especially for children of immigrants. In her paper (co-authored with Adriana Aldana and Laureen D. Hom), "Children of Latino Immigrants Framing Race: Making Sense of Criminalization in a Colorblind Era," in the Journal of Ethnic and Migration Studies (June 2018), she presents a longitudinal study on how children of Latino immigrants make sense of their criminalization and the extent to which they see this through a racial lens. The paper calls attention to how the American segregated context informs the race consciousness of children of Latino immigrants and how urban conditions sustain colorblind ideologies.
The award committee reported that it was impressed by the "thoughtfulness and theoretical rigor of Rendón's work, as well as the significant implications her work has on social policy development."
"I want to share this recognition with my co-authors Dr. Aldana and Dr. Hom and thank the School of Social Ecology for this award," Rendón said. "We hope our scholarship sheds light on the Latino urban experience, draws attention to the criminalization of Latino young men and how the American segregated context informs their race consciousness."
Corona's dissertation proposal, "Familism, Social Support, and Psychological and Physical Health," aims to understand how cultural variables — in this case familism — may be linked with relationship processes and social support in ways that can lead to good health outcomes in diverse samples.
The committee noted that it was particularly impressed with Corona's "thoughtful theorizing; her approach to study the positive aspects of being of minority background (i.e., familism as an asset), directly challenging deficit thinking; and the possible health implications of her work."
Grateful for the recognition, Corona explained her research: "These studies may shed light on the circumstances in which cultural values may be maximally effective for Latinos, where familism is culturally normative; but also for East Asian and European Americans, where familism is also relevant."
---
Feature by Mimi Ko Cruz, School of Social Ecology