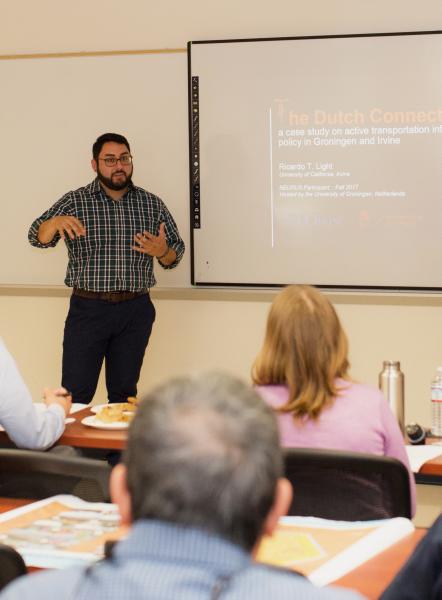 The Department of Urban Planning and Public Policy offers opportunities to add an international educational component to your graduate studies. The most popular option is participation in the Network for European and U.S. Regional Urban Studies (NEURUS) student exchange program. This is a great opportunity whether you are interested in international issues or want to compare U.S. practices and experiences with the reforms and adjustments taking place in a metropolitan area in the European Union. Course credit for NEURUS participation is arranged through your home institution. Some funding may be available to partially support your travel and living expenses.
NEURUS Overview
The NEURUS Student Exchange Program is a highly focused study abroad opportunity for UCI graduate students who are interested in a wide variety of urban and regional issues. Students are eligible to study at one of the following research universities:
Humboldt Universität zu Berlin (Germany)
Rijksuniversiteit Groningen (The Netherlands)
Wirtshaftsuniversität Wien (Austria)
A distance learning course, structured seminars, an assigned advisor from the host university, independent study credit, and existing courses at the host universities are structured to provide12 hours of academic credit during the fall quarter. Close working relationships between U.S. and European faculty and the small size of the program allow maximum flexibility to adapt to students' specific degree requirements and interests. Foreign language requirements are minimal (although knowledge of German is recommended for the Berlin placement); lack of language training is not likely to disqualify any student from participation.
For MURP students participating in NEURUS, since you will be abroad fall quarter of your second year, it is imperative that you plan your course of study so that you do not have a remaining requirement to fulfill that will only be offered in that quarter. In addition, for the Capstone Project (Professional Report), you will need to identify topics and consult with advisors early - spring and early summer after the first year - to ensure that projects are feasible and to receive feedback before going abroad. Consult with the MURP Program Director and Graduate Coordinator for advisement on these course planning issues.
Participation in the NEURUS Student Exchange is competitive since funding is currently limited to three UCI students per year. An information session is typically held in winter quarter to provide program details and application procedures. Students should notify Professor Scott Bollens of their interest and complete the application by the May deadline. Visit the NEURUS website for more general information about the program.